Alpha-Linolenic Acid / Omega-3 Fatty Acid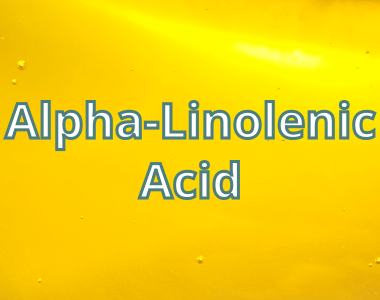 Alpha-linolenic acid, often referred to as just linolenic acid, is an essential fatty acid that must be obtained through diet. Fats like flaxseed oil, which have a high content of this fatty acid, are liquid at room temperature. The term alpha-linolenic acid is derived from the Greek word "linon" (flax). Flaxseeds and flaxseed oil are extremely rich in alpha-linolenic acid.
Chemical Structure
From a chemical perspective, alpha-linolenic acid has 18 carbon atoms and three double bonds in its hydrocarbon chain (abbreviated as 18:3). Due to the presence of multiple double bonds, this fatty acid is classified as a polyunsaturated fatty acid. The first double bond is located between the third and fourth carbon atoms, starting from the omega end (methyl end, CH3). Therefore, alpha-linolenic acid is also an omega-3 fatty acid.
Alpha-linolenic acid is converted into eicosapentaenoic acid and docosahexaenoic acid
The human body (especially in vegans) requires the fatty acid to form the physiologically important eicosapentaenoic acid (EPA) and docosahexaenoic acid (DHA). However, the conversion rates are very low 1 2. Only about 5% of alpha-linolenic acid is converted to eicosapentaenoic acid, and <0.5% of alpha-linolenic acid is converted to docosahexaenoic acid 3. EPA is required as a precursor for the formation of eicosanoids (series 3) involved in immune reactions. DHA is a component of the brain and retina, among other things.
However, negative health effects due to the low EPA and DHA status in vegans are not yet known 4.
If alpha-linolenic acid is not converted by the body into other fatty acids, it is either stored or used as a source of energy. 5.
Conversion can be disrupted by chronic diseases
People who have diabetes may not be able to convert alpha-linolenic acid into eicosapentaenoic acid and docosahexaenoic acid 6. The conversion may also be limited in other chronic conditions such as atherosclerosis, obesity, hyperlipidemia, metabolic syndrome, and hypertension 7. Therefore, supplementation of 200 to 300 mg per day of DHA and EPA is recommended for these individuals 8. DHA and EPA from microalgae are available as plant-based sources. Dietary supplements should always be taken with caution and only after consultation with a physician.
Alpha-linolenic acid and linoleic acid compete for the same enzyme systems
Alpha-linolenic acid competes with linoleic acid (essential omega-6 fatty acid) for conversion into longer-chain fatty acids through the same enzyme systems (Δ-6-desaturase and Δ-5-desaturase) 9. If too much linoleic acid is consumed, which is often the case for vegans, the conversion of ALA to EPA and DHA will be hindered 10. This can lead to health damage and increased inflammation in the body (see Omega-6 to Omega-3 Ratio).
Protection against cardiovascular diseases through alpha-linolenic acid
According to several studies, there is evidence that alpha-linolenic acid may be associated with a moderately lower risk of cardiovascular diseases 11 1213.
Alpha-linolenic acid (ALA) is associated with a reduced risk of fatal coronary heart disease, according to several study findings. 14 1516 17. Scientists suspect that the consumption of ALA reduces the mortality rate associated with heart diseases. Recent studies from 2014 support these assumptions. 18. There is a lower risk of total and non-cardiovascular mortality in older adults associated with alpha-linolenic acid derived from food, according to scientists.
ALA has anti-inflammatory and other potentially positive properties that could reduce the risk of stroke and its consequences 19 20 21. Atherosclerosis is a risk factor for strokes. Study results indicate that a diet rich in alpha-linolenic acid is associated with reduced arterial calcification 22 23. ALA may also help in the prevention and treatment of type 2 diabetes and arteriosclerotic vascular diseases. According to a study conducted in 2013, alpha-linolenic acid improves insulin sensitivity in obese patients 24.
According to scientists, there is a connection between increased inflammation levels and sarcopenia in old age. In this context, a study was conducted in 2009, which found that supplementation with 14 g of flaxseed oil per day for 12 weeks during strength training in older men resulted in lowered interleukin-6 concentrations (interleukin initiates inflammatory reactions) 25. However, this positive effect could not be observed in women.
Blood pressure-lowering effect
Scientists believe that ALA can reduce the risk of hypertension by about 30% 26. Other study findings also suggest a blood pressure-lowering effect in patients with high blood pressure and moderate hypertension without adverse effects 27.
Combating depression with alpha-linolenic acid
An increased intake of alpha-linolenic acid is associated with a reduced likelihood of depressive symptoms, according to current study findings 28.
Does alpha-linolenic acid protect against prostate and breast cancer?
Some scientists suspect a protective effect against prostate cancer, while others see an increased risk with excessive consumption of alpha-linolenic acid 29 3031 32. Further research is needed for a conclusive assessment.
According to a 2015 study, there is evidence that alpha-linolenic acid reduces the growth of breast cancer cells. 33 34.
Protecting Alpha-Linolenic Acid from Oxidation
Foods containing alpha-linolenic acid are highly sensitive to oxygen, light, and heat. 35 36. According to the study, it is destroyed five times faster than the omega-6 fatty acid linoleic acid. Foods, especially oils, containing a high amount of alpha-linolenic acid should be stored tightly sealed, in a dark and cool place to prevent oxidation. Oxidation can quickly make the corresponding foods rancid, altering their taste and potentially causing health problems. Flaxseed oil (extremely rich in alpha-linolenic acid) should not be used for frying and should always be stored in the refrigerator. To avoid the formation of trans fats, cold-pressed fats with a high content of polyunsaturated fatty acids should not be used for cooking and frying in the first place.
In order to protect the fatty acids in cell membranes, the body requires vitamin E as an antioxidant 37. Vitamin E can counteract the effects of harmful free radicals. The intake of the polyunsaturated fatty acid alpha-linolenic acid increases the daily requirement of vitamin E. According to study results, at least 0.6 mg of Vitamin E is needed for every gram 38. Therefore, it is important to ensure an adequate supply of foods and beverages rich in vitamin E.
Requirement
Factors such as age and gender determine the requirement for alpha-linolenic acid. The following recommendations (AI) were issued for vegetarians, which can be used as a guide for vegans (there is currently no specific list for vegans) 39:
| Gender and Age Group | Amount in g |
| --- | --- |
| Men | |
| 18 years and older | 2.6 |
| Women | |
| 18 years and older | 1.6 |
| Pregnant | 2 |
| Breastfeeding | 2.4 |
| Children | |
| 0 to 12 months | 0.5 |
| 1 to 3 years | 1 |
| 4 to 8 years | 1.6 |
| Boys 9 to 13 years | 2 |
| Boys 14 to 18 years | 2.4 |
| Girls 9 to 13 years | 1.6 |
| Girls 14 to 18 years | 1.6 |
According to a study, vegans generally require about 2 to 4 grams of alpha-linolenic acid daily 40. Due to a lack of plant-based foods containing eicosapentaenoic acid (EPA) and docosahexaenoic acid (DHA), vegans rely on a higher intake of alpha-linolenic acid to be able to produce sufficient EPA and DHA on their own.
Pregnant women following a vegan diet should consult their doctor regarding supplementation of eicosapentaenoic acid (EPA) and docosahexaenoic acid (DHA). EPA and DHA are crucial for the mental development of the child 41. The recommended amounts are ≥ 650 mg EPA and 300 mg DHA per day 42. The European Food Safety Authority (EFSA) recommends an intake of 100 to 200 mg DHA per day 43. ALA or EPA dietary supplements have little effect on blood or breast milk DHA levels, whereas the consumption of preformed DHA contributes to an increase in blood DHA levels during the study 44. The mother's DHA level, in turn, influences the DHA content in breast milk 45. Accordingly, adequate supply of essential omega-3 fatty acids should also be ensured in growing children. This can be achieved through either a diet rich in omega-3 or through DHA supplementation.
Deficiency
A deficiency in alpha-linolenic acid can quickly occur with a vegan diet 46 47 48. Only a few foods contain higher amounts of omega-3 fatty acid.
A deficiency in alpha-linolenic acid, particularly in a vegan diet, inevitably leads to a deficiency in EPA and DHA, which can cause symptoms such as visual impairments, skin irritations, loss of motor coordination, tingling in hands and feet, and impaired brain function.
Due to very low conversion rates, pregnant women, in particular, should ensure an adequate intake of ALA, EPA, and DHA, as otherwise it can lead to brain and retinal development impairments in the child 49. To safeguard development, (expecting) vegan mothers should consider a supplementation of vegan EPA and DHA in consultation with a physician.
Excess
An excess of alpha-linolenic acid is not associated with any serious side effects 50.
Nevertheless, according to a 2007 study, higher ALA consumption was associated with increased age-related changes in the lens of the eye 51.
Foods containing alpha-linolenic acid
Alpha-linolenic acid is found in larger amounts in flaxseeds (22.8 g per 100 g), chia seeds (17.8 g), hemp seeds (8.7 g), and walnuts (9.1 g). Additionally, canola oil (9.1 g), hemp oil (22 g), and flaxseed oil (53 g) are highly recommended. Avocados (0.11 g) and in smaller amounts, kale and spinach also contain this healthy fatty acid. Further foods containing alpha-linolenic acid (Omega-3) can be found in the article and in the Omega-3 food table.
Compared to other dietary forms, a vegan diet provides 1.3% of daily energy intake from alpha-linolenic acid (non-vegetarian: 0.8%; ovo-lacto-vegetarian: 1.2%) 52.